The Cove Journal by JoDee Samuelson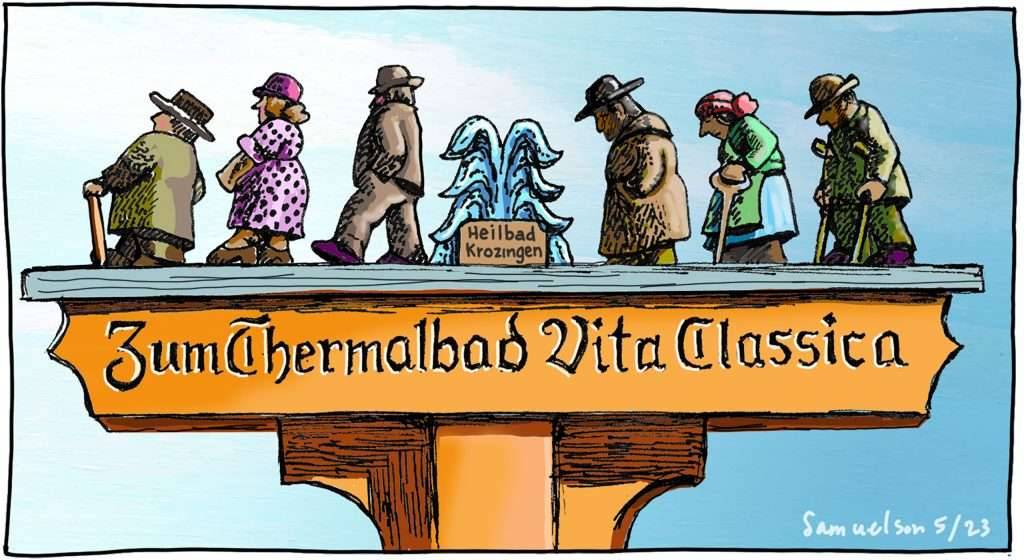 It's good to be back in the Cove. Yes there is still snow along the edge of the woods and the potholes are worse than ever, but the bees are humming, the crocuses are blooming, and I'm home.
April is the perfect month for a change of scenery and a shot of energy, so we slipped away to the Black 32Forest or Schwarzwald in southwest Germany. This mountainous region of 6000 km2 is called "black" because of the dark color of its conifer forests, but it's easy to see how unwanted intruders might have felt uneasy among its swamps, streams and spirits.
There's nothing forbidding about the Black Forest today, thanks to tourism at its finest. A visitor's rail and bus pass for the whole region is practically free; there are walking trails everywhere; towns have cobbled streets and sometimes a castle; local wine and beer are inexpensive and delicious; houses have red tile roofs… and there are thermal baths.
If you look at a map of Germany and see the name Bad Something-or-other—Baden-Baden for example—you will find a thermal bath there, because bad means bath. Thermal baths require a heated aquifer (layer of groundwater) plus a crack in the ground. Water bubbles up through the crack, eager citizens scoop out rocks and dirt and create a pool, then step into the warm mineral-laden water and let their cares drift away.
The baths at Bad Krozingen being a mere 5 km away, "Just follow the river," we decided to walk there and spend the day immersed in water. Sure enough, after passing fields of sprouting grain and row crops under cover, transmission lines, horse paddocks, and a stork flying overhead with long legs trailing behind, we arrived at Vita Classica Thermal Bath and Sauna Paradise.
What do you do in such a place? Watch what other people do. Buy a plastic bracelet for 22 euros, swipe it at the turnstile, change into bathing suit, swipe bracelet at a locker, place items in locker, swipe again, shower, and enter the baths. The many pools indoors and out at 36° C (human body temp 37°) are enhanced by beautiful ceilings, mirrors, palm trees, potted plants, flowers, fountains, mists, whirlpools, music and happy voices. Perfect? Yes.
After three hours we were as rejuvenated, enriched and cured as we could get. Also slightly shrivelled… in a good way. Like the figures in the sign we marched home, heads held high.
Germany is a wonderful country, full of history, art, and incredible bakeries. But it's a country for the industrious people who live there, not for me. I live in Canada! There might be more litter in our ditches than in theirs, but we'll be cleaning that up this month. (W.I. Roadside Clean-up Day is May 13). Maybe I can't buy the same Black Forest cake here, but how many pastries do I need?
No, I'm happy to get up in the morning, drink my non-cappucino coffee, step outside and breathe the fresh Cove air, then see my neighbors coming down the road to meet me for our ordinary but priceless morning walk.