Island Fringe Festival 2023
City Cinema, Charlottetown
August 3, 2023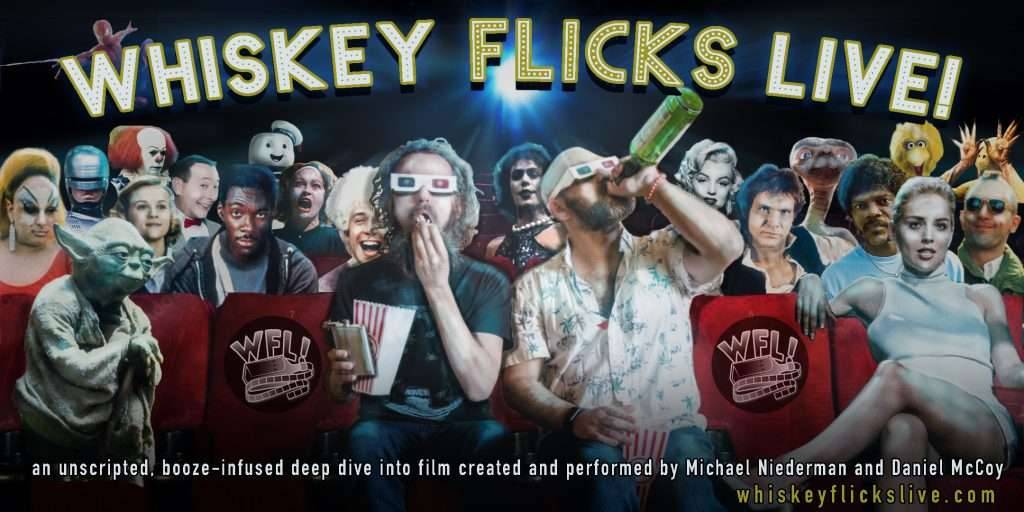 The Island Fringe Festival (IFF) is like Forrest Gump's proverbial box of chocolates: you never know what you're gonna get, as the shows are selected by random drawing. Review-wise, sometimes I sort them into bundles organized by theme, format, style; but this year I'm sorting them by venue, for two reasons.
Reason #1: IFF has a swell venue lineup this year. It's conveniently compact (only three locations) and all solid choices: no sweltering heat, no physical obstacles, no intrusive distractions, just sensibly workable performance spaces. City Cinema's an especially nice addition.
Reason #2: the venues self-sorted their material a bit. The one-person shows are all in the Carriage House, for instance, while Havenwood gets the shows with dance content, and City Cinema hosts a couple of multi-performer, multilayered, semi-interactive shows rooted in the personal perspectives of their key performers.
First up at City Cinema, appropriately enough, was unscripted, "booze-infused" film commentary series Whiskey Flicks LIVE!, a long-established series of live stage or streaming events in which New York-based film fans Michael Niederman and Daniel McCoy screen film clips and comment on same.
More specifically, McCoy assembles a unique, one-time-only assortment of film clips before each show, unseen by Niederman beforehand, and a whiskey-sipping Niederman offers spontaneous comments on each clip as McCoy plays them, often engaging McCoy in dialogue, plus occasional audience interaction.
The general tone is comedic, so wisecracks abound; but there's also smatterings of serious film criticism, social commentary, philosophical musings, even self-reflection—at one point, Niederman blames his recent loss of a friend on his own big mouth and the whiskey poured into same—all of it grounded in the duo's infectious passion for movies.
Their IFF premiere's theme was islands, with eclectic clips from films like Castaway, Jurassic Park, The Blue Lagoon, Jaws, Anne of Green Gables, Lord of the Flies, The Banshees of Inisherin and many more.
I was sorry that island-related oldies like The Ghost Breakers (1940), I Walked With a Zombie (1943), Island of Lost Souls (1932) or Isle of the Dead (1945) didn't make the cut; but there's no way to squeeze all of film history's islands into one hour, plus McCoy earned infinite brownie points with me by including the criminally underrated, ever-delightful Muppet Treasure Island. All in all, Whiskey Flicks LIVE! is a thoughtful and often funny celebration of film, like Siskel & Ebert plus jokes.
City Cinema's other IFF show is scripted romantic musical comedy fare, Six Songs about Six Men I've Dated, written by its star, June Morrow. She recently moved to PEI "after dating every age-appropriate man in Ontario," using those romances as fodder for this collection of original songs, stand-up comedy and sketches exploring what it's like dating in your forties and fifties.
Mining personal heartbreak for theatrical confessional purposes is one of the oldest tricks in the IFF book, and Morrow's particular brand of it—heavy on the sex and salty language—is a tough sell for a stuffy old character like me; but her mix of luminous energy, undeniable charm, self-deprecating comedy and emotional vulnerability is compelling, and the packed house on opening night adored her.
Morrow's songs are often funny and clever, sometimes even moving. And unlike a lot of IFF tell-all vehicles, this is no solo show: wily veteran PEI musician/comedian/actor Albert Arsenault co-stars as the many men in Morrow's life, and smaller parts are filled by another Island stage icon, an often-offstage Laurie Murphy (full disclosure: a past collaborator many moons ago). It's still very much Morrow's show, but this ensemble approach adds layers beyond the usual IFF confessional fare.
Murphy also serves as director and stage manager, which helps explain how such a new show from an emerging artist is one of IFF 2023's most smoothly executed, technically polished productions.