The Good Time Radio Variety Show
Review | by Sean McQuaid
Victoria Playhouse, August 11, 2023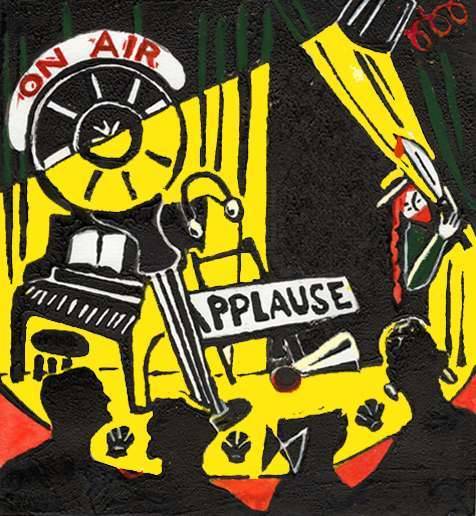 Victoria Playhouse had great success in 2021 with The Good Time Radio Variety Show (GTRVS) starring its creators Cameron MacDuffee & Julain Molnar and others, a light-hearted musical comedy built around a smalltown radio show. GTRVS is back by popular demand but it's no mere remount, boasting a new script, new songs, and a largely new cast and creative team.
The story: station CRPO (Crapaud Radio) is staging a live national radio broadcast at the historic Victoria Playhouse despite personality frictions, technical difficulties, and the odd electrical catastrophe. MacDuffee stars as CRPO's co-owner and host W.G. 'Wig' Adamson, joined this time by new co-stars Judy Marshak (as Wig's partner DeeDee Kisinevsky), Sarah Segal-Lazar (as Salinger 'Sal' Gallant) and Tim Hamming (as Max Mayhem), backed by co-writer/co-creator Molnar, director Laurie Murdoch, music director Ben Aitken, stage manager Kyra Harwood-Lister and assistant stage manager Zoe Nichols.
The actors make their own music and sound effects, so the stage is awash in musical instruments, microphones, props and foley (sound effects) tools; the cast navigates the inevitable logistical labyrinth of cues with relative ease, much to the credit of their directors and stage managers. A degree of audience interaction is also encouraged, often via handheld cue cards designed to elicit responses like applause or boos.
The play's radio content is a fun, oft-anachronistic, wildly eclectic mix of musical numbers, phone-in shows, commentaries, weather, sports reports, commercials and radio dramas. The show is set in 2023, but CRPO's style of radio often feels more like the stuff of decades past, especially its custom commercials and old-school radio dramas.
The commercials are fun little miniature works of art promoting various real-life local businesses, arguably peaking with a surreally sexy ad for Martin Ruben Consulting (definitely a crowd-pleasing climax of some sort), giving assorted Victoria Playhouse sponsors some extra bang for their buck and adding local colour.
Local colour saturates this show, whether it's Wig's eloquently affectionate "sandbar" commentary about life on PEI, those commercials, or the script's many references to local subjects, notably talk of the beautiful Victoria Playhouse itself, rhapsodically described as "a shrine to having a good time."
The music, some of it created for the show, is mostly written by members of the cast and crew, though cover tunes from other sources are mixed in as well. Highlights include MacDuffee's infectious "Good Time Theme," Marshak's poignant "Better Day" and an eerily elegiac performance of Segal-Lazar's "When I Go."
The show often has a party vibe but gets literally and figuratively darker in spots, notably during "Haunted Isle Mystery Theatre" (a spooky ghost story narrated nicely in shadow by a flashlight-faced MacDuffee) and the hilariously twisted serial "Evil Wears a Bonnet" featuring the wicked schemes of Anne Shirley's rival Josie Pye. Forget Netflix's Anne with an E… this sinister slice of Pye is the Anne of Green Gables spinoff we've always needed.
While MacDuffee, Marshak and Segal-Lazar all assume a dizzying array of characters and voices on the air, Marshak may be the MVP in terms of the sheer variety and comedic potency of her repertoire, like a female Mel Blanc; but the best single character voice is Segal-Lazar's Josie Pye, basically an evil Kristen Chenoweth with occasional flashes of Eartha Kitt and Margaret Hamilton. Seriously, CBC or somebody needs to turn "Evil Wears a Bonnet" into an actual series right the heck now.
Which segues nicely into perhaps the highest praise I can offer The Good Time Radio Variety Show: I wish it was all real. I wish "Haunted Isle Mystery Theatre" and "Evil Wears a Bonnet" were airing new episodes every week, I wish commercials were always this entertaining, and I wish CRPO was really out there filling the airwaves with its folksy retro charm. Until such time, we've got GTRVS's fictional radio universe to fill that void. As they say on CRPO, "It's always a good time for a Good Time!"