Profile: Anastasia Preston by Julie Bull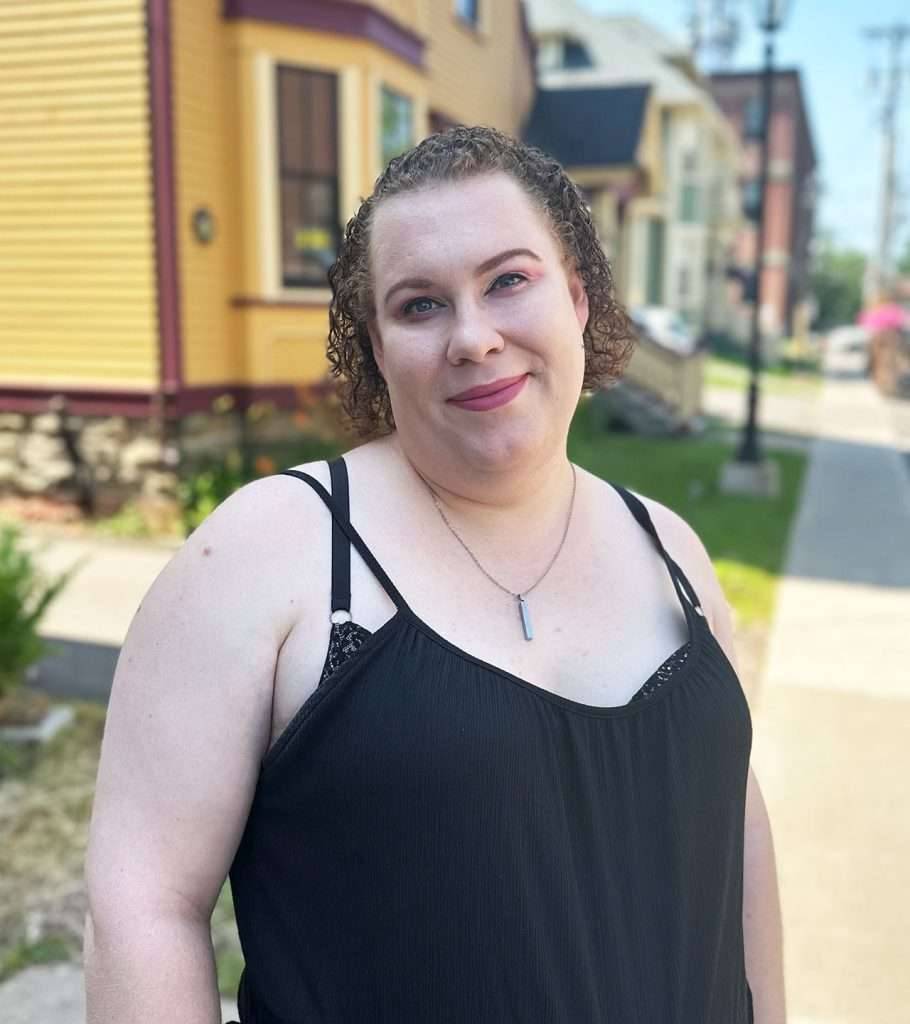 Anastasia Preston has always been a helper. Our conversation together started by her recalling stories from childhood where she found herself in helping and advocacy roles, both at school and at home. As a student with learning disabilities, Anastasia learned self-advocacy from a young age.
"I was in a leadership club in elementary school, and I continued to be compelled into support and advocacy roles. My helping hands weren't just hard at work in school. I remember when I was young and would help stock the shelves at the local grocery store to help and as something fun to do."
Anastasia credits her mom for being such an important person in her life and for helping her learn how to be a powerful advocate. "I have a fierce momma bear and she was my greatest supporter, teaching me how to advocate for myself and others." Over the years, Anastasia has taken on many advocacy roles, professionally and personally. "Advocacy for others also helps me," she says.
"Without my mom, none of the work I have done would have been possible. Her love for me as a trans person has helped keep me connected to the world. She has allowed me to be my best self and I am forever grateful."
As the Trans Community Outreach Coordinator at PEERS Alliance, Anastasia's dedication to community-building and advocacy has a solid place to thrive. Along with her professional roles, Anastasia is an active artist, exploring a variety of creative activities. She is a poet, a painter, and a photographer. "I love to take pictures of scenery and landscapes, though my camera cannot capture the beauty and essence that my eyes can see."
Whether in her professional or personal life, Anastasia is here to help and to heal. "My work and my art help me make a better life for myself and they help me heal." She is deeply committed to cultivating safer and braver spaces within her community. "I endeavour to make my community a better place and I've realized that some broken things can only be healed in community. This helps take our healing to the next level."
Anastasia has been public about her own healing and transition journey as she continues her advocacy for self and others. "When I first came out as trans, there weren't a lot of supports, formally or informally, on the Island and I'm glad to see that is changing. I'm honoured to play a role in the supports and services available for trans folks now. Knowing my effervescent self, I am comfortable putting myself out there in ways that others are not."
One of the ways she has been putting herself out there is through her poetry. Though she has been writing poetry since she was a preteen, Anastasia just started sharing her poems publicly in the summer of 2022. In the year since her first sharing, she has become a regular at open mics and poetry events around Charlottetown. "The more opportunities I took, the more the universe provided them."
"Sharing poetry has shown me how much we all share these human experiences and emotions. It really helps connect us, regardless of different aspects of our identities. We are all human beings, and we can connect to each other when we share our experiences and emotions. After a year of sharing my poetry, I see it as the ultimate form of anti-transphobia because I'm told I'm alien by the transphobes, yet when I read a poem, all people, even cis people, relate to the experiences and emotions that I share."
In her work and in her life, Anastasia cultivates brave spaces where people can connect and heal. She helps others find their own joy and passion while rejecting the systems of oppression that attempt to silence trans people. Anastasia believes that her strength as an advocate is due in part to some of the hardships that she has faced: "I am forged in the crucible of my adversity."
Throughout our conversation, Anastasia weaved elements of spirituality, emotional connection, and healing. Specifically, she talked about the joy that comes from spending time with nature.
"Even as a kid living in the city, you could find me on the balcony watching the birds." This joy and connection stayed with her, and she can still be found watching the birds and communing with nature on a regular basis.
"Nature is the most beautiful artist with endless teachings for us, if only we pay attention to its lessons."