Fix Your Plate by Tara Reeves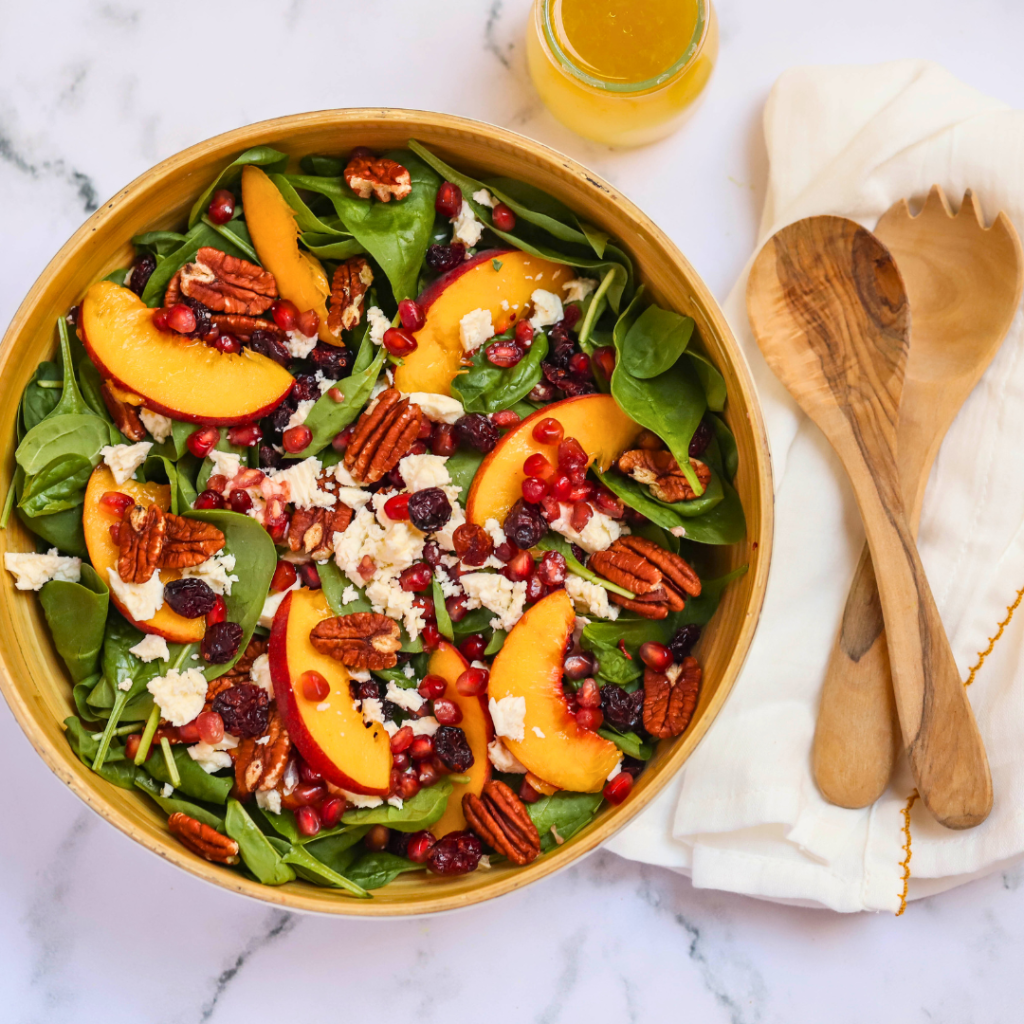 August is here, and it's bringing us a whole bunch of fresh fruits and veggies to feast on. Get ready to dive into the deliciousness that this month has to offer!
Let's start with the fruits, because who doesn't love a juicy, mouthwatering sweet bite? August is the time for berries to shine. Blackberries, blueberries and raspberries are bursting with flavour and packed with antioxidants that do wonders for our well-being. These little gems are like tiny explosions of goodness in every bite.
And then we have the stars of the show—stone fruits. Apples, apricots, cherries, nectarines, peaches and plums are all ripe and ready to delight your taste buds. These beauties not only taste amazing but also come loaded with essential vitamins and minerals. Eating them is like a sweet reminder of how awesome nature can be. Peaches in particular, are a special summer favourite. The vibrant flesh, balancing sweetness and tanginess, is a treat for your senses. Delicious and nutritious, peaches offer vitamins, fibre and antioxidants. Elevate any dish with their natural sweetness and golden-orange hues.
Now, let's talk melons. Watermelon, cantaloupe and honeydew are the ultimate summer fruits, and they're at their absolute best in August. They're super refreshing, hydrating and the perfect way to cool down on a hot day.
Moving on to the veggies, we've got a colourful lineup for you. Bell peppers are always a favourite this time of year. They add a nice pop of freshness to your salads and stir-fries. Plus, they're loaded with vitamin C, antioxidants and fibre, which are all good news for your immune system and gut health.
Ah, sweet corn! This summer staple is here to add some natural sweetness to your barbecues and picnics. It's a great source of fibre, essential B-vitamins and minerals, making it a tasty and nutritious addition to your summer dishes. Grill it, steam it, or toss it into a salad to enjoy its peak season goodness!
Cucumbers are the perfect snack for a hot summer day. They're crisp, refreshing and oh-so-hydrating. Slice them up, toss them in salads, or enjoy them just as they are. These green wonders are not only delicious but also great for digestion and keeping your skin glowing.
Last but not least, we have the mighty tomatoes. Bursting with flavour and vibrant colours, they're like little bombs of juicy goodness. Tomatoes are packed with lycopene, a powerful antioxidant that's been linked to all sorts of health benefits. So, go ahead and enjoy them in your salads, sandwiches, or even as a simple snack.
It's the perfect time of year to embrace the abundance of delicious seasonal fruits and vegetables. Visit your local farmers' market or go on a fun orchard adventure. Let's celebrate the flavours of this month, nourish our bodies and enjoy the simple pleasure of eating in harmony with the season.
Peach & Pecan Salad
Serves 4
Ingredients
For the salad:
6 cups baby spinach
3 fresh peaches, sliced
½ cup pecans, halved
⅓ cup pomegranate seeds
⅓ cup dried cranberries
⅓ cup vegan or regular feta, crumbled
For the dressing:
4 tbsp. olive oil
4 tbsp. apple cider vinegar
1 lemon, juiced and zested
1 tbsp. maple syrup
Directions
1. Make the dressing by whisking together all the dressing ingredients and set aside.
2. To make the salad, place the spinach in a large bowl and add the peach, pecans, pomegranate, cranberries and vegan feta. Drizzle over the dressing and gently toss to combine.