Profile: Shawn Hogan by Julie Bull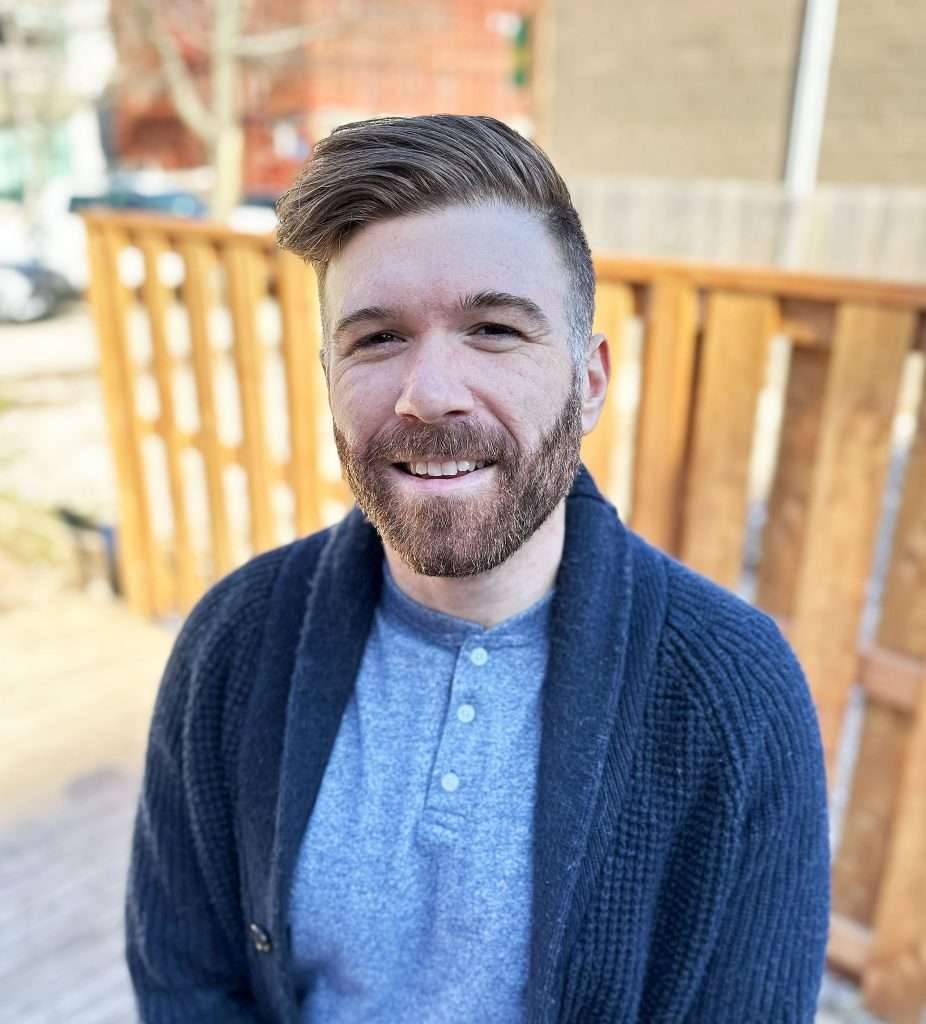 Shawn Hogan was born and raised on PEI, and he spent time living in Calgary and Toronto before moving back to the Island at the start of the pandemic. Among other things, Shawn is a writer, producer, performer and comedian. He is also the Executive Director of the PEI Writers' Guild. Before making the shift into the world of performance, Shawn spent 15 years working in the trades.
Shawn is currently sharing a monthly comedy show called Work-in-Progress at The Gallery Coffee House and Bistro in Charlottetown. The poster for this series boasts an adorable picture of little-Shawn. We started our conversation by talking about that little kid on the poster. "In grade two, I asked for, rather, I demanded we have a stand-up comedy showcase in my class."
"I told some joke by [comedian] Steve Martin and was immediately stopped in my tracks."
Work-in-Progress is a fun, unique, and intimate way for Shawn to hone his craft by telling stories and jokes to create a full-length comedy album that he plans to record later in 2023. "Overcoming the hurdles along the way helps us see that nothing has to be perfect, nor does perfect even exist."
Like many kids who enjoy performing, Shawn's first stage was in living rooms of family and friends. Interestingly, during the early days of the pandemic, Shawn returned to those living room roots and could be found performing in living rooms across PEI.
"It was a lot of fun to share comedy in these personal and intimate settings. And of course, you are fed well when you're in someone's home. Those charcuterie boards!"
With no formal comedic training and a lifetime of funny-making behind him (and that sprinkle of East-coast humour), Shawn started to find himself on the stage of comedy clubs when he lived in Calgary. "Courage is a miracle. Don't overthink it, just do it!" He underwent intensive and immersive self-study when he lived there by attending as many comedy shows as he could. "Showing up and being part of the comedy crowd was a big steppingstone to creating and sharing my own comedy on stage."
With the foundation in his pocket, Shawn moved to Toronto where his commitment and dedication to comedy continued. "I'm open to playfulness and fun and I think that's what keeps me going." He produced a patio comedy series that went on for eight years. These unconventional shows were intimate with no microphone. "There's magic that happens in these kinds of gatherings." The relational aspect to Shawn's performance style is evident in both these intimate gatherings and on large stages. Along with the smaller, intimate shows, Shawn has also been on popular comedy stages such as Just for Laughs and Yuk Yuks. He recently opened for Canadian comedian Gerry Dee at the Confederation Centre of the Arts, and he has an extensive background in comedic performance. "Once you find your comedic voice, you can make anything funny!"
Shawn's comedy style has a strong storytelling base, and his sets often include those interesting characters that we can so easily relate to because they are our friends, family, and neighbours. "It's important to create art to integrate our experiences. I ask myself 'how am I using the world around me right now? What can I learn from and draw on from the world around me?' It's all about perspective."
Though he exudes confidence and courage, Shawn acknowledged that he doesn't always feel that way. "Despite feelings of doubt, insecurity, or imposter in day-to-day activities, there isn't even a whisper of doubt when I'm performing." This isn't meant to sound arrogant; rather, it is a common experience that performers have where we are so enveloped in the moment on stage, fully present, unable to access all the fears and insecurities that are likely felt immediately before getting on stage and again immediately when we get off the stage. "Regardless of how an event goes, at the end of the night, I am home and in my own bed."
Shawn has not only shared his own comedy across Canada and here at home, he also has brought many comedians to the Island and is encouraging of new, upcoming comics on PEI.
"PEI gives us the gift of playfulness and laughter. It's also a soft spot to land when we fail and a supportive place when we succeed. There's no place like home."