Talking from Experiences by Ashleigh Tremere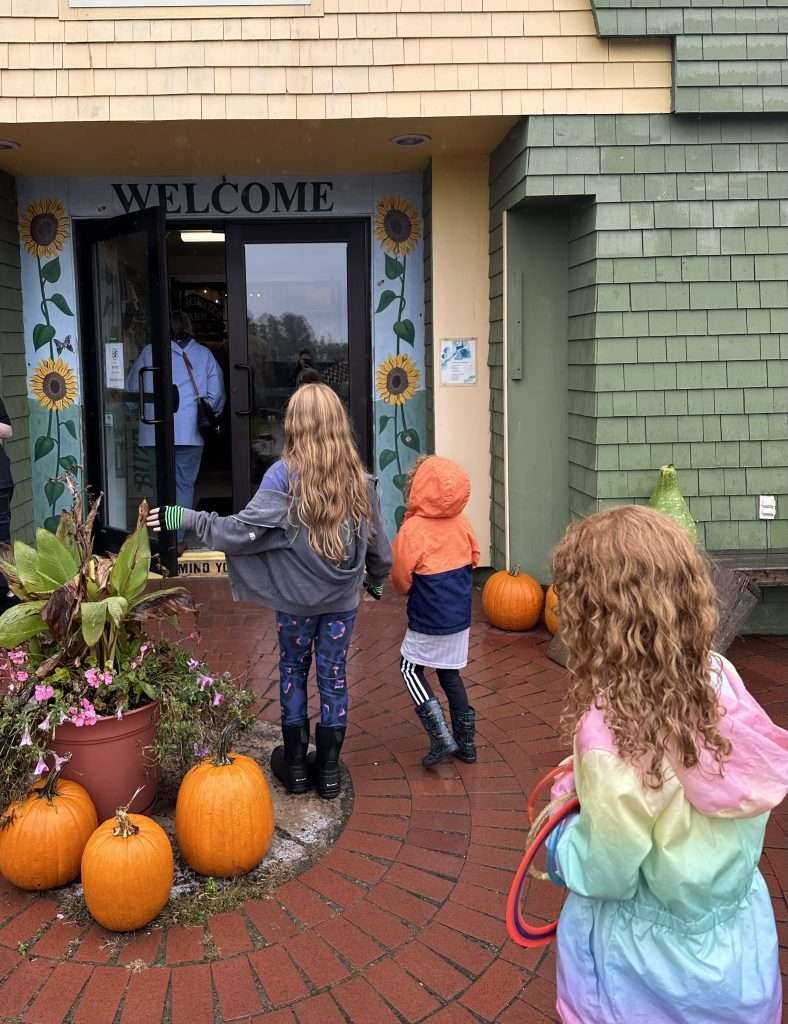 My weekend looks different as life and responsibilities change. My thoughts on an ideal Saturday certainly have!
While I've been a regular attendee of the Charlottetown Farmers Market for many years now, even my approach to patronship there has altered. The years of solo journeys for sustenance right before closing, became missions for salmon bagels that my oldest, waking late, would crave from the age of four. This morphed, out of necessity, into a surgical approach, where speed and precision crowd-weaving were favoured: one baby carrier on my front, another on my back, a toddler in hand, and my oldest bee lining for the salmon bagels. I wanted to get in and out before things went pear shaped. The crowds of seemingly less hurried frequenters were to be quickly "helloed," "goodbyed," and surpassed. I envied, and was somewhat annoyed by, their casual perusing. But it seems I have evolved into a new stage.
On Saturdays where the universe allows, I fight any responsibilities, stuff down that internal voice reminding me of work or chores awaiting me, and will myself to embody that casualness I once envied.
If you were to ask my three younger children what Saturdays were for, they would tell you that it's "smoothie, market and library day." We still have weekends where our time frame is short and we cannot linger as long as any of us may like, but this past Saturday, having missed the last number and with a work obligation canceled, it was resolved that we would be unhurried.
My oldest being a teenager now preoccupied by friends, rarely joins, she simply sends her request for samosas from Out of Africa. My three younger kids, having their legs fully under them, traverse the market with a practiced independence that some may question, but I find amusing to watch.
The commitment my almost six year old has to waiting in what can be a very long line for his noodles from Abby's, makes me grin even thinking about it. Watching others in line observe him, sometimes with their own amusement, other times with what I'm sure is concern for his well being, brings me a strange satisfaction. As I said, this has been long practiced and the market has become a safe space filled with familiar faces. They have cultivated their own relationships with many of the vendors. They'll definitely swing by for a joke from Brett at Caledonia Coffee and he's told me he loves it. The vendors are what truly make the market special.
Supporting local becomes much less just a slogan when you watch it lived. These are families and individuals supporting themselves, creating food stability, actually contributing to our local economy in tangible ways, sharing their art and making shopping joyful. Obviously I still hit up the grocery store, I even have favourite cashiers, but it's my least enjoyable stop really. It doesn't have the vibrancy, the joy, or the community feeling of the market. It certainly doesn't have the level of freshness or originality. And I definitely don't get the same feeling that the money I spent is going into the pockets of people who truly value receiving it.
After we all gather our goods, we normally sit under "the climbing tree" to eat, but the weather wasn't for it. My mother, whose first visit to the market wasn't until she was in her 50's, had accompanied us. The tables were full inside, too full to ask a stranger if five more of us could join. Because that's a normal act there, strangers sharing space and eating together. We only had to wait a minute for the perfect "people watching" table to free up.
Someone is playing guitar in the corner, groups of older friends are laughing over coffee. College kids, pagers in hand are waiting for their sustenance. Young families and solo folks, making the background buzz of Saturday morning.
Aren't we lucky to experience such a casual existence for a moment? But with meals and shopping done it's time to free up our table and move on to the library…
—The Buzz welcomes columnist Ashleigh Tremere, who will be taking in PEI's everyday activities or local events and offering her thoughts on them.