The Cove Journal by JoDee Samuelson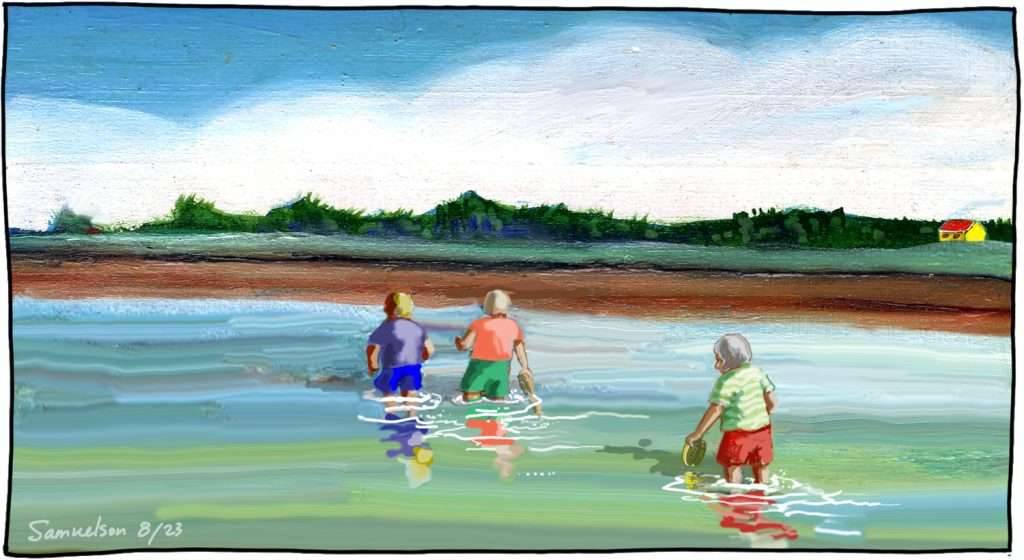 The tide clock indicates low tide so we think we'll walk across the Cove. But morning low tides aren't particularly low, and by the time we get to the shore the sandbars are already underwater. We wade in anyway, lifting feet carefully over snails, stones and sluggish swampy bits. No one else is around; the Cove belongs to us.
On the other side I choose my own route and end up on the far side of a mucky-bottomed brook. While my friends head back along the edge of the cape, I clamber up the opposite bank to walk barefoot on a mowed path through a meadow of timothy grass chest high, heads heavy with delicate purple blossoms… vetch in full bloom, tendrils reaching out to clamber up anything vertical… showy clusters of Queen Ann's lace nodding gracefully atop long slender stems… sticky bedstraw spilling out of every empty space…
At trail's end I pull on sandals, kneeling on a yellow roadside cushion of hop clover pompoms. Some scarlet strawberries catch my attention—oh the flavour! the aroma!—and as I refuse to let any wild strawberry go uneaten I become happily waylaid. My friends meanwhile are already down the road calling to me so I straighten up and hasten on past ditches filled with pink and purple lupins, red clover blossoms, pink roses, ox-eye daisies, showy golden birdsfoot trefoil, a patch of fireweed commemorating some blaze from the past, neon green ferns and lush glossy bayleaves. Can't we hold this moment for a few more months?
Back in our own yard, yellow daylilies give way to their orange cousins, joined by California poppies, ladybells, bluebells, peonies—such a variety that I barely notice when another flower takes its turn on stage. We're dining on home grown radishes, spinach, garlic scapes, lamb's quarters, baby carrots, strawberries, leaf lettuce, kale, new potatoes… feeling blessed… while hearing about floods in Vermont and fires burning out West. I can't do anything about these things except worry. Closer to home, a neighbour has had a heart attack, another has an infection in his back, and a friend dislocated her shoulder for a second time—and here I can help. Bring over a loaf of my good molasses-oatmeal bread, stop by for a visit.
Hours pass. The high tide is starting to ebb and I'm ready for a swim. All day the Cove has been warming in the sun and oh my, the water takes no getting used to. You'd think there would be a big crowd at the shore, but beachgoers prefer low tide and the pleasures of sandbar life. A nice towel was left on a rock. Hopefully someone will come back for it.
A swallow speeds by just above the waterline plucking mosquitoes out of thin air. Two seals with wet doggy heads watch us from a sensible distance. A kingfisher flies overhead: what's it doing so far out to sea? So many little dramas taking place under our very noses, and we're taking them all in, one day at a time.