Profile: Megan Stewart by Julie Bull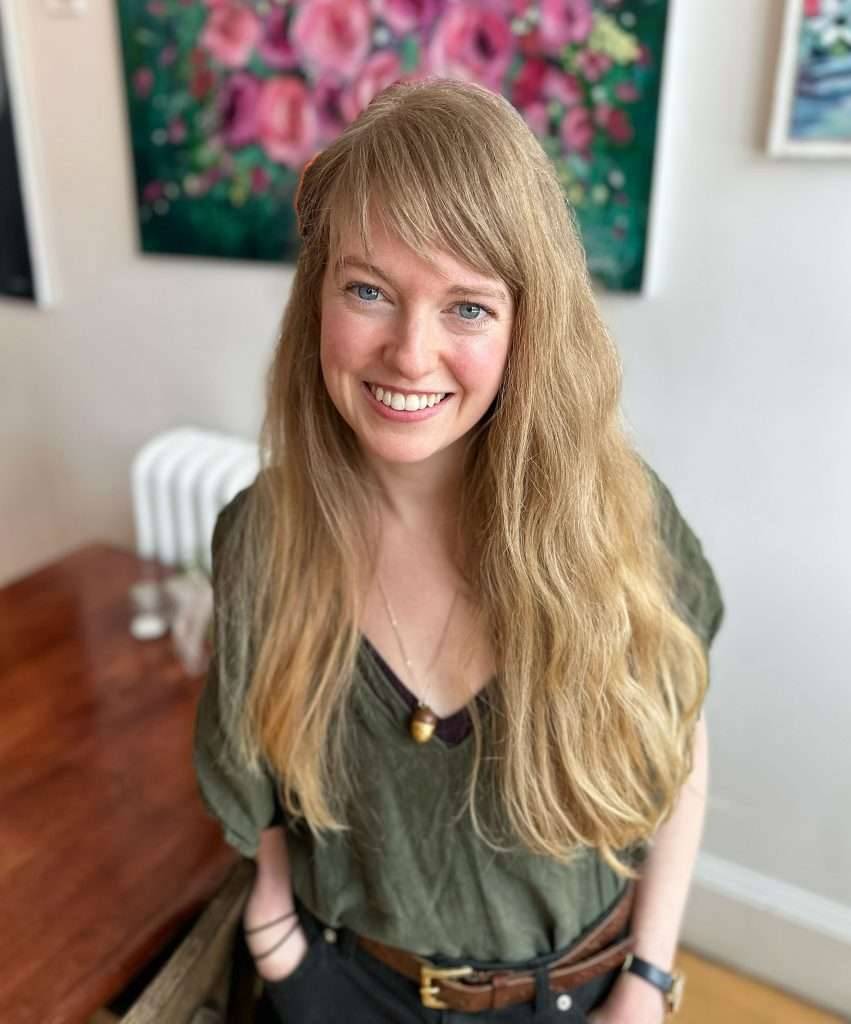 Megan Stewart is no stranger to the theatre landscape on Prince Edward Island. Notably, she co-founded the March of the Crows parade in 2011 and the Island Fringe Festival in 2012. Though she isn't involved in either of these annual events now, they have both become staples in the summer theatre scene in Charlottetown.
Megan grew up in Charlottetown and left the Island to pursue post-secondary education in the arts. She was in her high school musical, part of the Young Company, and was involved in an ACT Christmas show. Both her undergraduate and graduate degrees are in fine arts and her focus has been on theatre. Megan is an actor, a writer, a sourdough bread maker (even before we all became sourdough bread makers during the pandemic), a stilt-walker, and a director.
While she enjoys and has worked in most theatre roles, Megan naturally gravitates toward the director position. "As a director, I consider myself a stitcher of things, helping to bring it all to life."
Particularly, Megan is keenly interested in theatre and art in unconventional spaces. "Theatre in unconventional spaces creates a more compelling audience experience."
Unconventional theatre can seem a world away from academic programs and processes, so Megan found herself disenchanted with some of those parts of her graduate program.
"I was struggling with some of the structural aspects of the master's program and then I met Ker Wells. I had heard about him and had been told he's someone I should know because of our connections to PEI, and our shared interest in outdoor and community-engaged theatre."
In a beautiful act of serendipity, Ker became Megan's graduate supervisor, and she completed her MFA at Simon Fraser University. "Now that I was finding my people, it was a smoother process through the rest of the program. I was able to create interdisciplinary art in action that was built on collaboration."
Megan's admiration for and recognition of Ker's influence in her life was evident during our conversation. "I learned so much from Ker, not just in theatre, but in life. I also credit him in cultivating the bread-maker in me because he gave me a sourdough starter and told me to run with it, which I did!"
Ker and Megan continued their creative collaborations back here on PEI. They co-directed and co-produced the first four years of the River Clyde Pageant.
"Ker passed away from his battle with cancer in 2019 which was a difficult and devastating time." Megan turned to writing as one of the ways to work through this significant loss in her life. What started as flow writing to process grief and loss has become the start of a solo show that Megan aims to bring to the stage.
"I had written so much as I was processing the loss and then I didn't look at it for a year. When I picked it up again after the year, I thought 'there's something here!' so I decided to keep working at it to bring a solo show to the stage. On Bread Time is a story about loss, transformation, and the slow process to re-find self through grief."
Along with processing grief, Megan and I talked a lot about process, generally. "It's all about the process!" she eagerly proclaimed. As a fellow process-enthusiast, I enjoyed hearing about ways Megan approaches theatre co-creation, staying true to her relational and interdisciplinary philosophy.
The process of producing and directing the River Clyde Pageant is a beautiful example of that.
"We have a ten-week process leading up to the pageant where the show itself is co-created through a series of workshops on such things as music, performance, puppet making, and stilt walking. Each ensemble is its own unique and amazing experience. Then we bring them all together to see the co-creation come to life. People of many ages and backgrounds see themselves reflected in the project."
I was excited as I listened to Megan talk about bringing all these weird and wonderful components together. I was compelled to ask her if she had any insight for other interdisciplinary and unconventional thinkers and artists and am happy to report that I am on the right weird track!
"Pursue your wild ideas, and find the other weirdos to collaborate and build community with and bring the ideas to life!"