Profile: Johanna Nutter by Julie Bull
Johanna Nutter has been newly appointed as the executive director of the Victoria Playhouse. Listening to her speak about that place and the people who have supported her journey was inspiring, and her connection with the Playhouse goes back nearly 15 years.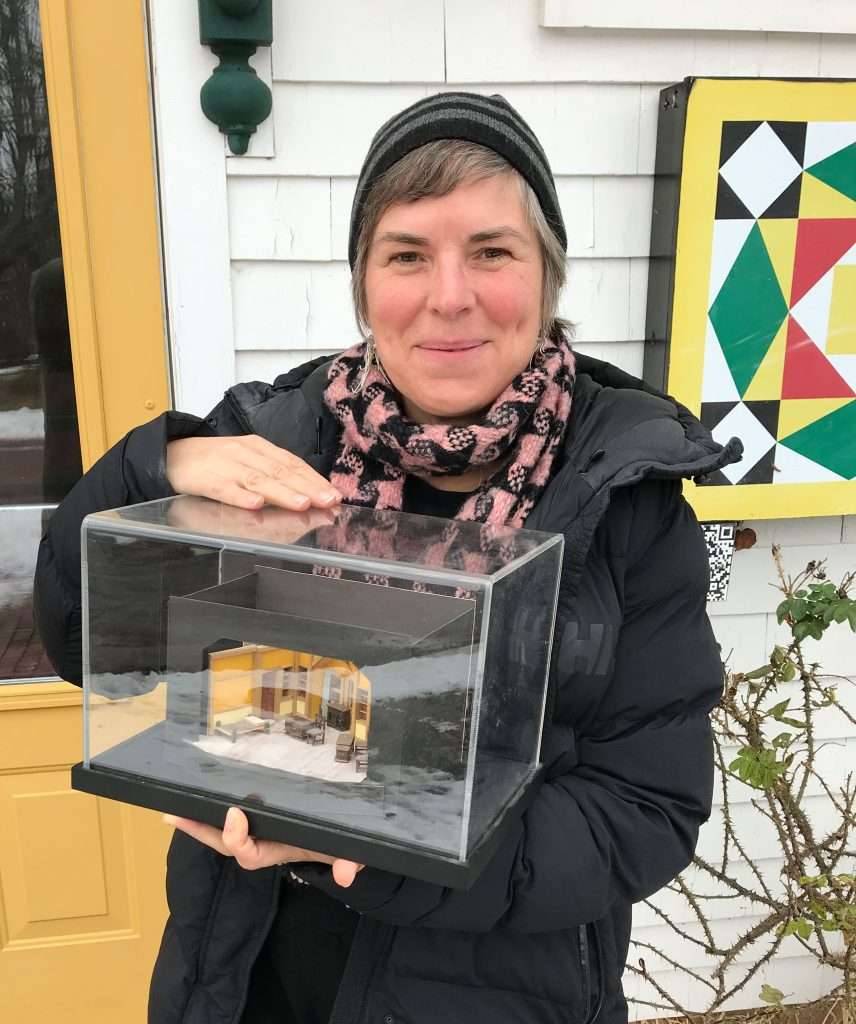 Her love and care for the place is evident in how she speaks about being there: "The Victoria Playhouse is the most beautiful room I've ever been in. It's like I'm in the belly of the whale. The acoustics are so great, and the artisanship of the room is incredible. It feels like an artistic sanctuary and I'm so excited to see what we build together in this next year!"
Johanna has been active in the theatre world for most of her life.
"I worked as a teacher in the school system for a little while but basically when I was starting out, I was living in Montreal and I was a bartender with an agent," she laughed. During that time, she stumbled upon a role that she felt she was perfect for. She eagerly and enthusiastically went for the audition, but she didn't even get a call back.
"Then I got a call from the Victoria Playhouse saying they had a perfect role for me to play. It was that very role I didn't get called back for in Montreal!" And so began her relationship with the Victoria Playhouse in 2007. Our short conversation included Johanna sharing many serendipitous moments like this one throughout her career.
"It's all about the relationships and the people we meet along the journey." In 2008, Johanna founded the Freestanding Room in Montreal. It is "a collection of creators who believe that big things happen in small places." When I heard about this collective, I immediately felt the alignment between Johanna's contributions and the art scene on PEI. There are so many big things here in this small place!
Johanna went on to have many other acting roles at the Playhouse and in Montreal. One of the roles she played was in a two-hour show with just her on stage. "After playing that role, I decided to write my own show!"
She says, "Like most actors, I've also done a variety of odd jobs like commercials, and I've worked in film. But one of my favourite things to do is dramaturgy. It's this fun process of finding the thread and telling the story. I love bringing the words from a script to life on a stage."
Along with all her work in theatre, Johanna spent some time in the early 2000s as a DJ in Montreal's first hip hop club. "I could see that we were changing the world by changing the ways people saw the world through music."
Johanna brings this passion for change into everything she does. "I love going into unknown places and getting to know them."
Like many artists, she has her hands on many projects, many of which include writing bilingual adaptations and a lot of translation work. It's important to her to work in both French and English. "I also have some ongoing creative projects and those perpetual works in progress."
Even though we needed to do our chat on the phone, I could feel the heart and soul of Johanna's energy as she spoke about theatre. She described it as the "collaborative beating heart and the hearts of the people on stage" and that's just the best description I've ever heard.
Johanna is a collaborator at heart, and she loves to work with other people in multi-disciplinary and unique ways to share their artistry. "I'm no stranger to putting the cart before the horse. Then there's a cart and others can climb aboard too, if they want to."
While it can be easy to get bogged down in all the criticisms and challenges that come with thinking and creating outside-the-box, Johanna had some great wisdom to share on how to work with it, rather than against it. "We all have this inner jury and I've learned to talk to them and convince them to be helpful!"
Now that's collaboration!