The Cove Journal by JoDee Samuelson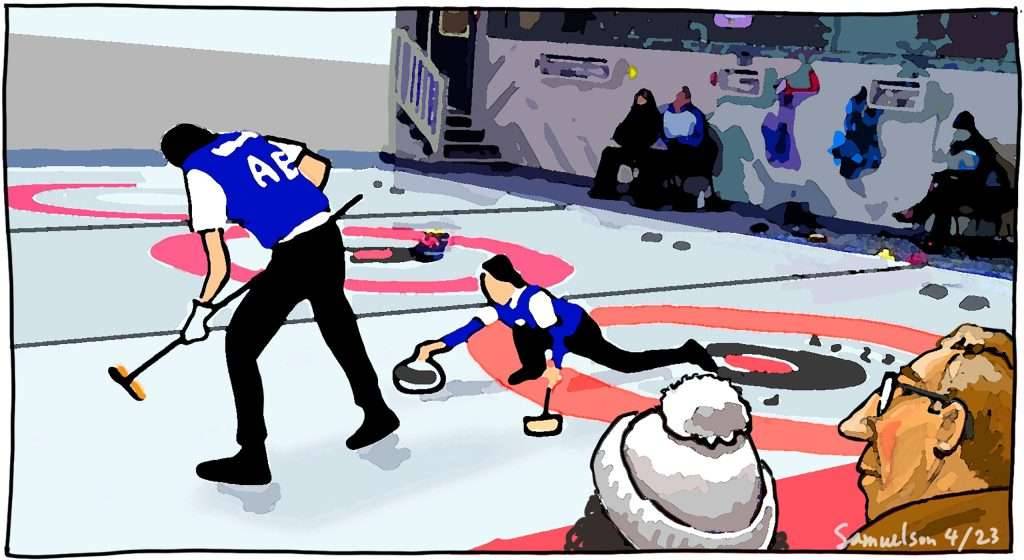 The woodpile is getting down. Last week we had the chimney cleaned. How lovely to pay someone to do this important task. In the past we cleaned it ourselves, but now that we have a slippery steel roof we don't feel like scampering around up there. Every day is a little warmer and soon we won't need a fire on at all.
It seems that we're having an election. Billboards unapologetically clutter the roadside with familiar and unfamiliar faces vying for our vote. Billboards were prohibited in 1988 under the Highways Signage Act (what a class act that was!) but apparently elections and Canada Winter Games are exempt from its regulations.
Speaking of Canada Winter Games: just like the long months of winter they came and went. Thousands of Islanders gave a big push to make it all happen. We attended a few events and had a grand time cheering for both teams. The men's hockey final, for example. Who to choose, Ontario or Saskatchewan? When either team had a breakaway or made an amazing shot, the audience cheered wildly. The rest of the time during play the arena was perfectly silent. You could hear skates scraping the ice and voices of the young athletes calling to one another. Lovely.
Friends gave us tickets to the Gold Medal mixed doubles curling match in Montague, and here's a piece of advice: Always bring a blanket to a curling rink. It was astonishing to be right there next to the ice, but the steel seats of the bleachers were, well, made of steel. I don't know what I expected. Alberta won over Ontario, just barely. All the curlers were obviously committed to their sport and could "draw to the button" time after time. Do I have that right? There's a lot of lingo and I admit that I know very little about curling. But I can see that it's fun!
The drive to Montague was an emotional experience. The forests of King's County are truly decimated. What's going to happen to all those broken trees? We've become used to the appearance of own landscape here in the Cove, but to see the destruction along Highway 3 through new eyes…
Staying positive… We seem to be on the other side of Covid. It's delightful to spend time with people we haven't seen in, it seems, years. And spring is here! Pepper and tomato seeds have sprouted, Easter candy is on sale, goldfinch breasts are turning gold, and our neighbour is firing up the old barbeque. Mmm. Something in my primitive brain loves the smell of charred meat.
Down at the Cove a dozen seals sun themselves out on the shoal. Two eagles keep company along the river. It seems that every living creature is thinking about love. What an exciting time to be alive!
We meander under the capes at low tide examining unusual rocks, fossils, buoys, driftwood. Winter is already a distant memory, and in the bright spring sunlight everything looks new and full of possibilities.